Sunflower Oil Refinery Plant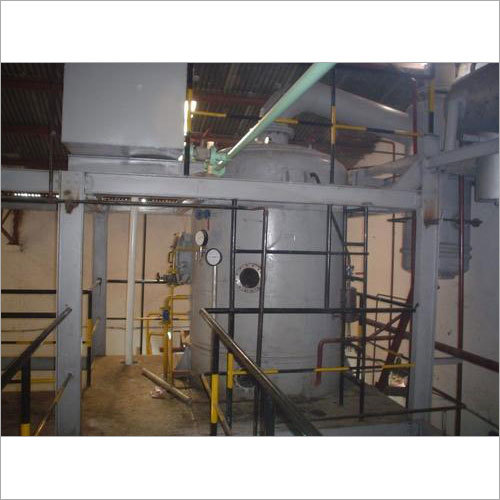 Sunflower Oil Refinery Plant
Product Description
The three basic processes in the batch refinery to refine oil:
Neutralisation: Caustic soda is added to remove Free Fatty Acids by the neutralizer. Heating coils heat up the oil to 60C by heating coils and stirs the oil by the stirrer. The free fatty acid and caustic soda together cause chemical reaction that forms soap stock, which settles at the bottom of the neutralizer from where it is collected in the soap stock tank. Extra caustic and soap ppm in the neutral oil is reduced by washing the oil with hot water. Soyabean oil and other edible oils require degumming.
Bleaching: Neutralized oil is heated in bleacher at 100 degrees Celsius to 110 degrees Celsius under vacuum. Bleaching earth is added once the temperature is reached to remove color by the adsorption process. The catalytic reaction takes place when coloring pigments add on the surface of the bleaching earth. Filtering system removes color pigments and bleaching earth.
Deodorize: The bleached oil is heated for removing phenols tocopherols aldehydes, ketones and other odoriferous materials responsible for the color of the oil. These material under high temperature evaporates in the high vacuum system. Refining process uses barometric condenser, catechol, thermic fluid boiler, vacuum pump, steam generator, etc., in the process. All the equipment that are part of the refinery process are connected through pipelines to the vessels.
Cooler: Deodorized oil needs to be cooled at the atmospheric temperature to prevent oxidation. It cools in the cooler up to 45 degrees Celsius with cooling media. This oil is filtered before packaging process.
Dewaxing: The wax in oils, like sunflower oil is required to be removed before packaging.
Product Details
| | |
| --- | --- |
| Brand | Mitsun |
| Capacity | 1-5 ton/day,60-100 ton/day,20-60 ton/day,5-20 ton/day |
| Usage | Soybean Oil,Peanut Oil,Cotton Seed Oil,Sunflower Oil |
| Automatic Grade | Automatic |
| I Deal In | New Only |
| Design | Customized |
| Condition | New |
| Material | SS and MS |
| Usage/Application | Sunflower Oil |