Edible Oil Refinery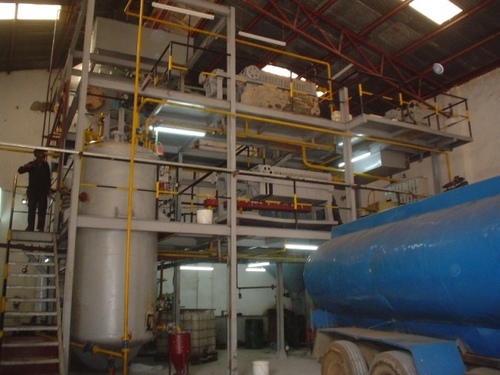 Edible Oil Refinery
Product Description
Our company can be trusted to purchase edible oil refinery plant, made from high quality components. It can be availed in desired specifications to meet your exact production requirements, in addition to quality and performance. Made in a space saving design, this plant can be customized and can be availed in several capacities.
Products Details:
Neutralization: Neutralizer is used to remove Free Fatty Acids (FFA) while using caustic soda. Heating coils heat up the oil to about 60C and is stirred using a stirrer. The chemical reaction between caustic soda and free fatty acid forms soap stock that settles down at the bottom of the neutralizer and then collected in soap stock tank. Hot water is used to wash the oil to minimize the extra caustic and soap ppm in the neutral oil. Degumming is required in oils, like soyabean oil.
Bleaching: Bleacher is an equipment in which oil is neutralized by heating at 100 degrees Celsius to 110 degrees Celsius under vacuum. Bleaching earth is added once the temperature is reached in the adsorption process, that causes catalytic reaction. The filtering system then removes the bleaching earth and colour pigments.
Deodorize: In the deodorizing process, the bleached oil is heated to remove those odoriferous materials responsible for the color of the oil. Such material evaporates at higher temperature under high vacuum. The refining process involves use of vacuum pump, barometric condenser, thermic fluid boiler, catechol, steam generator, etc., all of which are connected with the vessels through pipelines.
Cooler: The deodorized oil needs to be cooled at the atmospheric temperature to prevent oxidation. Cooler is used for this process that uses cooling media. The oil is then passed through the bag filter and then finally packaged.
Dewaxing: This process involves removal of wax from the oil, like sunflower oil before packing. The process oils passed through chill media and then through the filter to remove wax.
Trade Information
Telegraphic Transfer (T/T)

10 Per Month